Olympic Peninsula Circumnavigation, 2008
Circumnavigating a Peninsula?
How, you may ask, does one circumnavigate a peninsula?  …with the craziness, willingness and fortitude of Guinness World Record Holders. Greg Spooner and Jordan Hanssen know something of ocean rowing, after their successful 2006 trans-Atlantic row, and they found the challenge to row around Washington State's greatest peninsula to be an irresistible one.
This is truly a backyard adventure, conjuring up the possible from that which seems impossible at first glance. As Shackleton and others proved many years ago, a little skill and dedication to the task may reap unforeseen rewards. Spooner and Hanssen knew a portage and bushwacking were in the mix, so they included an unlikely tool in the expedition's equipment list: a machete.
Read the first-hand account of the voyage via blogs at the following link; however, a crash of our old website lead to disappearance of significant original material.  Please email should you have early copies.
— Photo Slideshow
— Peninsula Circumnavigation Blogs: August 11-24, 2008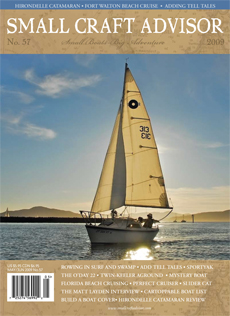 Small Craft Advisor article, An Oariffic Tale, includes accounts of the voyage's first weeks and saved blog posts covers the rest, including a beach crash landing.
Read more expedition first-hand accounts on the Expedition Blogs link.