Adventure: Mississippi River 2014
A real-time 90-day adventure rowing education expedition, presented live to a virtual classroom.
Click here to sign up your child or classroom for our FREE education programs.
THEN
Visit the Adventure: Mississippi River expedition education portal, RowboatClassroom.org
Adventure: Mississippi River (AMR) represents the kickoff to our annual OAR Northwest Education series. AMR will be the flagship expedition, blending real-life adventure with technology to reach students both locally and beyond the Mississippi River watershed. AMR aims to inspire students to experience an adventure in their local environment, understand the potential environmental impacts of their actions, and engage the rich history and diversity of species along the Mississippi River and its immense watershed. The curriculum will be designed around the research-based Adventure Learning approach and delivered direct to classrooms via the latest cloud-based technologies, enhanced with cultural and community connections to this important river. The online environment developed for AMR will support student interactions, and collaboration with AMR community (students, adventurers, scientists and the public).

ROUTE: The expedition team will paddle and row the Mississippi River from its Lake Itasca (MN) headwaters to the terminus at the Gulf of Mexico. Adventure: Mississippi River is a Fall-semester academic program, created in conjunction with the OAR Northwest Education Team.
GOALS
Visit 30 schools bordering the Mississippi River (3 schools in each of the 10 bordering states)
Increase virtual classroom participation from previous Atlantic Ocean expedition by 30%

Previous expedition curriculum reached 75 North American Classrooms
Live online webinars reached >15,000 students worldwide*

Conduct relevant scientific experiments on behalf of partnered research and conservation organizations
SCHEDULE
Project Build: 10/25/2013 – 12/31/2013
Project Capacity Building: 1/1/2014 – 6/30/2014
Project Kickoff at Headwaters with OARNW teacher teams: TBD
Project Launch: 7/1/2014 – 8/30/2014
Project 'Live': 9/1/2014 – 12/15/2014
COST to the Educator
Free, thanks to public donations, sponsorship, and grant funding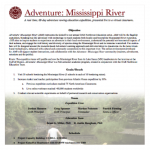 Download the Adventure: Mississippi River 1-pager (.pdf) for more about the expedition, and how our Adventure Learning program works.
Please forward and share the document with your colleagues, friends and family.
*via in-person presentations, live and recorded online webinars, and through OAR Northwest Education-delivered curriculum