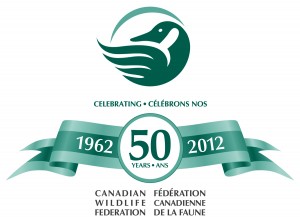 OAR Northwest is pleased to announce a title sponsorship agreement with the Canadian Wildlife Federation (CWF).  Press Release & Rowing for Research
Canadian Wildlife Federation is dedicated to ensuring an appreciation of our natural world and a lasting legacy of healthy wildlife and habitat. Through CWF's partnership for the Salish Sea and Africa to the Americas expeditions, Wade Luzny, CEO-Executive Vice President believes "the OAR Northwest expeditions will draw attention to the health of marine ecosystems and re-connect the public with the outdoors, water sports and conservation. It's an exciting course, with an ocean of possibilities for water education and engagement."
CWF's presence was immediately felt when they come aboard for the successful 750-mile circumnavigation of Vancouver Island (April 2012).  We look forward to their continued involvement for Africa to the Americas in December 2012, .
OAR Northwest expedition member & Olympic Gold Medalist in rowing, Adam Kreek, will work closely with CWF to ensure their message of marine wildlife and habit conservation is communicated throughout our expeditions.
Luba Mycio-Mommers Ph.D., CWF's Director of Education, believes in starting where students are at and creating opportunities for them to realize they can make a positive impact on the natural world. Her work is directed to empowering educators with capacity for this to happen. She also believes in the power of what young people can teach adults about their concerns of the future of the natural world and enabling that to happen.
OAR Northwest will proudly engage youth, adults,  families, students and school classrooms on behalf of CWF, and we look forward to continuing to work closely with their staff to ensure an appreciation of our natural world and a lasting legacy of healthy wildlife and habitat.